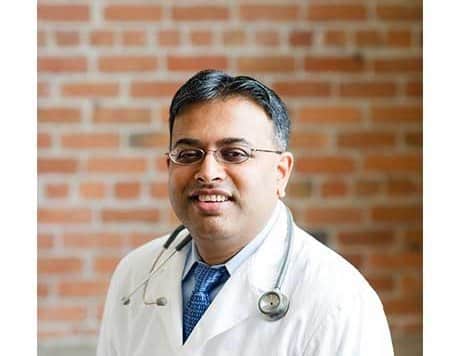 About Dr. Villivalam
Dr. Arun Villivalam is a concerned and caring family physician and primary care doctor serving the community of Los Gatos, CA. Dr. Villivalam attended Thomas Jefferson University, where he received his medical degree, and completed his residency in family medicine at Cook County Hospital. Dr. Villivalam provides a variety of services to ensure the health and wellbeing of his patients. He offers annual physicals and exams for general wellbeing maintenance, school and sports requirements as well as Medicaid annual wellness checks. Dr. Villivalam also helps his patients to manage chronic diseases, provide blood work as needed, and provides counselling support to those who need to improve their stress management techniques. Urgent care is also available to patients in need.
Dr. Villivalam is a part of Los Gatos Doc, Inc. and is board certified by the American Board of Family Medicine. He is also affiliated with El Camino Hospital Los Gatos in Los Gatos, CA and is a member of the American Academy of Family Physicians. Dr. Villivalam welcomes patients who speak English, French, Spanish, Telugu, and Kannada. His awareness of these different languages makes him accessible to patients from a variety of cultural backgrounds. He is a dedicated family man and enjoys spending time with his wife and kids. Outside of his practice, he enjoys spending time with friends, playing volleyball, board games, and watching movies.Dr. Villivalam is devoted to ensuring the longevity of his patients' health and developing long-lasting relationships with them. He takes his time to understand symptoms and give correct diagnoses to ensure the continued health of all his patients.
Major Insurance Providers Accepted
We accept only Medicare and most PPO insurance plans. Below is a short-list of just some of the plans we accept. Please contact our office if you do not see your insurance provider listed below.











"Very Plesant, Personally Caring, Family Values, Outstanding Personality. & Trustworthy."
"I've switched doctors several times and Dr. Villivalam has by far been my best experience. He is incredibly professional, very knowledgeable and really takes the time to answer all your questions. Instead of just prescribing something to get me out the door, he was very caring and asked lots of questions to understand me holistically. He even took time after our visits and followed up with me personally over the phone, I highly recommend him. The facility is also great with a lab right on site and his receptionist was really friendly and professional."
"Dr. Villivalam is one of those rare, old school doctors where he takes time with his patients, really talks to you, and is very caring and genuine. I've been seeing him for the past several years, and he has treated various illnesses and injuries. He's helped a lot with ongoing acidity, which is fully under control now. I've somehow had the flu twice in the past year, and he found a way to see me right away and get me the right meds to temper it. When my back completely went out, he gave me the appropriate muscle relaxants and other medicines to get me back on track quickly. When I tore my achilles a few months ago, he made sure that I get the x-ray right away to ensure no broken bone, while also referring me to the orthopedic surgeon. All in all, he's really been there to ensure good health for me. I would wholeheartedly recommend him to anyone!"
"Dr.Arun Villivalam is an exceptionally caring and talented doctor, and he has been great with treating my family members of all ages. Recently, my 80 year old dad had a fall and and he was barely able to stand. When I called in, Dr.Villivalam granted an appointment and took the time to suggest that I call him up on arrival so a wheelchair could be sent to the car. In a week, my father is walking almost normally — and with zero medication in this case.I have also found Dr.Villivalam to also be a great choice for family visiting from outside USA, since visitor's insurance usually has its coverage limitations. Simple tests and referrals to specialists can cost a lot. Dr.Villivalam has treated at least three of my visiting family or friends (one even needed a minor surgery). They all told me that he was very mindful of the expense, and referred them to an affordable network of specialists and labs. The one that had surgery had spent many days looking for the right diagnosis and spending a lot of money before coming to him. They recovered in one day after the visit to his clinic.There's an amazing level of detail, compassion and competence I see in Dr.Arun Villivalam and I always like to recommend him to friends and family."
"As a sickly person with a rare REM disorder, I have gone to dozens of specialist, internists, and family doctors since infancy. Many a times I have the misfortune of meeting docs who misdiagnosed me, prescribed me meds I was deadly allergic to(even though i clearly wrote then down), and ignored my preexisting conditions. I met only three brilliant docs (head chair of Stanford sleep center, immunologist at Stanford and expert in my disorder and another immunology Prof-writes text bks for medical students and chairs Wiley immuno journals) who researched my disorder and acted accordingly. Like them, I applaud Dr. Villivalam bc he took the time to look into my medical files, going as far researching each of the dozen meds I am taking and making sure they are safe for pregnancy. I know this bc he recommended the exact mg amount of two supplements that I read in the most recent scientific literature for the largest meta analysis of pregnant women who are on one of my meds. So I know that he is up to date with the latest medical literature, which I think is one of the important traits in to look for in a doctor. Another rare quality is his interdisciplinary knowledge. He understood my immunological, gastrointestinal, gynecological (knew more than my actual ob-gyn) issues and medication interaction/profiles (down to the biochemical effect of norepinephrine and sleep from one of my meds). As a scientist with background in chemistry/pharmo/biochem, I am really impressed! Last but most not least, he actually LISTENS!!! And he sees you ASAP if you are sick. Also, his receptionist is super sweet and efficient in relaying concerns and calls back promptly."
"Arun is one of the finest doctors I have ever come across. He is very sincere, thorough and highly passionate about his work. Look forward to signing him up as my primary, after a couple of visits. Highly recommend him. Best Regards!"
"Dr V is awesome! Any concerns get addressed in a professional manner, referrals have all been top notch! Dr V always makes himself available for some day urgencies! Leidy Dr.V's assistant is awesome as well she is well communicated and personable!"
Location
Los Gatos Doc: Arun Villivalam, MD
15195 National Avenue, Suite 205
Campbell, CA
Los Gatos, CA 95032
Phone:
408-502-6040
Fax: 408-502-6041